Our vets provide an extensive range of surgical services for dogs and cats in The Blue Mountains, Collingwood, Thornbury, Clarksburg, Ravenna and the surrounding areas.
Our Surgical Services
Blue Mountain Veterinary Services performs an array of surgical procedures for our patients. 
From routine surgeries such as spaying and neutering to more complicated operations such as orthopedics, our team of highly qualified veterinarians can provide the experienced surgical treatment and compassionate care your pet requires.
Our veterinarians will always conduct a full physical examination and pre-anesthetic blood work to assess your pet's health before any surgical procedure.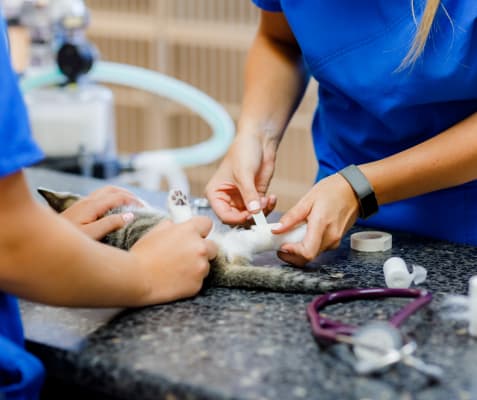 Spay & Neuter
Spaying or neutering your pet not only prevents unexpected litters but can also help protect your pet against serious diseases. If you're considering having your pet spayed or neutered, our Collingwood vets will happily guide you through the process.
Soft Tissue
Soft tissue surgeries for pets treat conditions from cardiothoracic and gastrointestinal issues to respiratory and ear, nose, and throat problems. Whether your pet requires an emergency or routine surgery our vets will provide your pet with the very best care.
Orthopedics
Orthopedic surgeries work to resolve your pet's mobility issues. Whether your pet is suffering from joint problems or a torn ligament at Blue Mountain Veterinary Services our veterinarians offer surgical services to help get your dog or cat move comfortably again.
Anaesthesia
While under anaesthesia your dog or cat's overall condition, blood pressure and heart rate will be continually monitored, assessed and cared for by one of our Registered Veterinary Technicians  
Post-Operative Care
The post-op care we provide, along with any at-home care instructions, helps speed up recovery and cut the risk of complications or the need for additional corrective surgery.
Our team will ensure that you are fully prepared to care for your pet at home after surgery, and will book follow-up appointments as needed to ensure your pet is recovering well.