Pet Boarding Services in Collingwood
When you board your cat or dog at Blue Mountain Veterinary Services, you can rest assured that they will be well fed, well cared for, and loved by our veterinary team.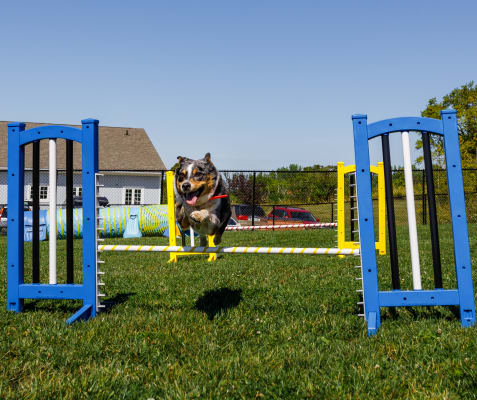 We Treat Your Pets Like Family
We understand that it can be nerve-racking to leave your pet behind when you travel. Pet boarding services at Blue Mountain Veterinary Services allow you to put your mind at ease. 
When you board your pet here, you'll know that they're being cared for in a clean, comfortable, quiet environment. Our staff gives each pet one-on-one attention, and dogs get social and outdoor playtime. 
As passionate animal lovers, we love giving pets all the expert care and attention they deserve during their stay with us.
Boarding: A Typical Day
Dogs
First thing in the morning, dogs head outside to get some fresh air before breakfast. During this time, their kennels are cleaned, disinfected, and stocked with fresh linens. 
After breakfast, playtime ensues and the dogs are back outside for social play supervised by staff. 
Dinner is served in the evening, then they go for a final walk before bedtime.
Cats
We follow your specifications for feeding your cat while they stay with us, so their routine is as close to their home life as possible. 
Each cat gets time with our staff every day (if they want it) including snuggles, play, and pets. We check, clean, and disinfect litter boxes periodically each day. 
Linens are refreshed and rooms are cleaned daily. To ensure your kitty feels relaxed at all times, our cat boarding area, we keep our cat boarding area separated from our dog accommodations.
Boarding FAQs
Have questions about boarding your fur baby?
These are frequently asked questions we've received from customers about our pet boarding services at Blue Mountain Veterinary Services.